Dave was passionate about many things in his life. He was known for his singing, particularly with the gospel group "4tified" and the barbershop quartet "Dominion 4". Dave loved the beach and surf fishing. He found great enjoyment in building a vegetable garden and working in the yard, metal detecting, and looking for old artifacts. He loved history, science, and reading, as well as 20-mile bike rides, tennis, and working out in his basement gym.
No passion, however, was as great as his desire to live for Jesus and his love for his family. Dave was devoted to many ministries in Loudoun and was a faithful servant of God. Dave viewed his work and all of his activities as his ministry to his clients and friends. His greatest joy was engaging with his grandchildren in playing games, doing chores together, riding bikes, catching crabs, and watching movies. Dave will be remembered for his endless generosity, his constant encouragement, his quick wit, and a dedication to helping anyone in need.
Curtis Byrd Larson ('66) died October 31, 2017, in Loudon, Tennessee. Known in college as Byrd and thereafter as Curt, he is survived by his wife Del Su, children from a previous marriage Dana Selva and Brian, and a grand-daughter, Priya. After Randolph-Macon graduation, Byrd did a two-year stint in the Army and then embarked on his 38-year career with IBM, retiring in 2008. His analytical mind was put to good use at IBM, in a variety of assignments. Byrd is fondly remembered by his fraternity brothers as a great bridge player, an avid relic collector (which remained a lifelong hobby, according to Del), and as a level-headed balance to his good friend, the late Mike "Moon Doggie" Thomas. Dave Biggs wrote that Byrd had a dry wit, and Al Segal responded it was not just a "dry" wit, it was the Sahara of wit. Del says Curt loved to search not only for Civil War relics, but for beach shells, and this photo was taken at his favorite place, Pensacola Beach, Florida, where he loved to spend early mornings beachcombing.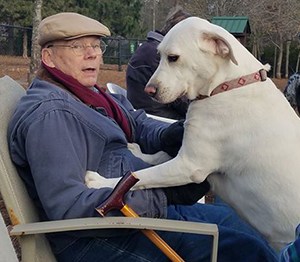 Robert Hines ('71) died February 10, 2019, in Cary North Carolina. Bob was a native of Salisbury, Maryland, and majored in English at Randolph-Macon. He is fondly remembered as one of the key members of AEPi during his time there. After R-MC, Bob attended graduate school at University of Richmond, but got sidetracked into a career in hotel management, working as assistant manager at several hotels in Richmond and Cary. He later worked as an accountant for Food Lion, and finished his career working for the American Kennel Club, an appropriate role for a dog lover. Bob could always be counted on as an enthusiastic participant in our fraternal exploits, whether a midnight expedition to view the legendary West Point Light, or a post-graduation pub crawl of Bethlehem, Pennsylvania led by brother McKosky.
Gentle, kind, and understanding are the first words that come to mind. ~ Jim "Tunes" Bordner
He was one of the nicest gentlest people I have ever known. ~ Ted McKosky
Gordon Scott ('62) died February 7, 2015, in Newport News Virginia. Gordon was one of the founding brothers of the Rho Mu chapter, and the first chapter Master. Gordon was fiercely opposed to the prejudice that permeated Randolph-Macon student life, such as the exclusion of Jewish members of the Greek letter fraternity system. Thus, Gordon and others created the nucleus of a group that became the Rho Mu chapter of Alpha Epsilon Pi. Gordon was also a co-author of a Yellow Jacket editorial and petition calling for the admission of black students to what was at that time an all-white institution. His co-author in that, Al Coffman ('62) recalls that publication almost got the writers expelled.
Gordon the first president of the Chapter, took the lead in both forming the chapter and later helping with the acquisition of the first fraternity house after he completed law school.
NEWPORT NEWS - Gordon Scott, 75, died February 7, 2015. Gordon, the son of missionaries, Roland Waldeck and Geraldine Lacey Scott, grew up in India and attended the Woodstock Boarding School. He was a graduate of Randolph-Macon and the College of William and Mary School of Law. Gordon is survived by his wife Constance Scott; 2 brothers Robert Scott and his wife Elizabeth, and David Scott and his wife Corinne; 2 sons; 1 daughter and one grandson.
Published in Daily Press on Feb. 9, 2015
Marathon historian, author and marine science expert Dan Gallagher died early Friday April 20, 2012.
It happened on the same day he was to receive a plaque from the Pigeon Key Foundation Board recognizing Gallagher's contributions to preserving and cataloging the history of the museum collection.
He was the long-serving chairman of the Marathon Historical Society and author of many books, including "Pigeon Key and the Seven-Mile Bridge," "Marathon: Heart of the Key West Extension," "Marathon 1906-1960" and "Marathon Matures."
"Thank god that he was here and did what he did when he did it, or it would have been forever lost," said Marathon businessman Brian Schmitt said. Schmitt, head of Coldwell Banker Schmitt Real Estate Co., is a Marathon native and shared family photos and other historic photos and other memorabilia with Gallagher.
"It's a big loss for the history of Marathon because he had a real interest and personal knowledge in doing the work all the way from the railroad days to the present," Schmitt told the Keynoter.
Marilyn Tempest, a former Marathon council member, knew Gallagher through her work with the Marathon Community Theatre.
"He (Dan) built every set I ever had and he and I used to go back and forth about how realistic [what I asked him to build] was. He was quite an engineer."
Gallagher came to the Keys in 1988 after spending 17 years as a college professor. In the Keys, he became a boat captain, environmental guide, editor and author.
Reitt Steinmetz, a member of the Pigeon Key Foundation board, described Gallagher as "my mentor. When he was ill, I drove him up and down [from Key West] and we became very good friends."
Gallagher was born April 24, 1945. He would have turned 67 Tuesday.
He is survived by his widow, Rita Irwin, son Jay Gallagher, daughter Jill Olsen and four grandchildren.
The family has requested donations in Gallagher's honor be made to Dolphin Research Center or Marathon Community Theater.


Michael Roby Miller, age 63, beloved son, brother, husband, and father, was taken home to our Lord on January 30 after a lengthy illness. Son of Clarence Roby Miller (deceased) and Betty Smithdeal Miller, Mike was a graduate of Yorktown High School in Arlington, VA. He received a Bachelors Degree in Psychology from Randolph Macon College in 1969. He served in the U.S. Army from 1969 to 1971. Mike received his Juris Doctor Degree from the Columbus School of Law of The Catholic University of America in 1979. He worked primarily as an attorney for Freddie Mac and Sallie Mae until his illness. He is survived by his mother Betty, brother John, sister Carol, wife Jeannette, and two sons, Matthew Roby and Jeffrey Michael. He will be dearly missed. A memorial service will be held on Wednesday, February 3, at 1 p.m. at Wesley United Methodist Church, 711 Spring Street SE, Vienna, VA 22180.






Brian E. Warren of Blacksburg, Va., who served as assistant vice president for student affairs until his retirement in 2006 died Tuesday morning, Nov. 18 at Montgomery Regional Hospital.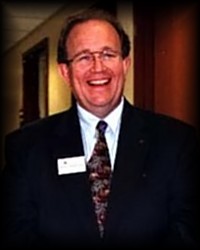 Warren was named assistant vice president for student affairs in 2003. He joined Virginia Tech in 1972 as a staff clinical psychologist with university counseling services. He became assistant director of counseling services in 1975, associate director in 1980, and director of both the counseling and student health services centers in 1994. He also served as an adjunct assistant professor in the Department of Psychology in the College of Science, presented lectures to a variety of classes, had numerous works published, and conducted extensive research in his field.

Edward F. D. Spencer, vice president for student affairs said, "All of us at the university, and especially in the Division of Student Affairs, mourn the loss of our friend and colleague, Brian Warren. He was a dynamic professional and leader who progressed from psychologist to administrator and provided leadership eventually to all the wellness areas of the division. He provided keen vision and supervision and never lost his wonderful sense of humor. We extend our sincere sympathies to his wife, Joanne, and to all his family and friends. We will all miss him."

Warren was born in West Virginia but grew up in Alexandria, Va. He received his bachelor's degree in psychology from Randolph-Macon and his master's in psychology and a doctorate in counseling and clinical psychology from the University of Florida. He was a member of the American Psychological Association and a licensed clinical psychologist in both Virginia and West Virginia.

Warren is survived by his wife of 40 years Joanne, of Blacksburg; son Nathan and wife Meredith of Hailey, Idaho; son Zachary and wife Jenny of Nashville.

By Meghan Williams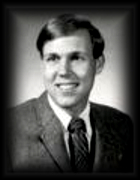 Michael W. Thomas on Saturday, June 25, 2005, of Vienna, VA. Beloved husband of Jeanne E. Thomas; father of Brigham S., Centreville, VA, Joshua M. and Katherine M. Thomas, both of Vienna, VA; loving son of Esther C. Thomas, Vienna, VA; brother of Steven A. Thomas, Southern Shores, NC, and Rebecca Demarco, Honeoye Falls, NY; loving grandfather of Nick, Brendan, Holly, Skyler, Abby, and Hunter. Friends may call on Tuesday, June 28 (today), from 2 to 4 and 6 to 8 p.m. at MONEY AND KING FUNERAL HOME, 171 West Maple Ave, Vienna, VA. Mass of Christian Burial will be offered on Wednesday at 11 a.m. at St. Marks Catholic Church, 9970 Vale Rd, Vienna, VA. Interment private. If desired, donations in his name may be made to Concerned Bass Anglers of Virginia, c/o Bruce Lee, 19507 Ware Creek Rd, Rappahannock Academy, VA 22538.
Mike Thomas, '68, died suddenly on June 25, 2005. There are a million good, and about a thousand great Mike Thomas stories, some of which can even be told in what used to be called "mixed company." Right now I am remembering the clock in Mike's room, which he would set a few minutes ahead to help him get up and to class on time, and which he advanced a little more daily throughout the semester, so that near exam time, the clock was on London time; Mike was the only guy I knew who was ever engaged to one girl while pinned to another (Jeannie, the obvious right choice)... in fact, Mike began his classes to convert to Catholicism for his fiancée and continued them so that he could marry Jeanne in the Catholic Church; I remember Mike playfully coming up behind your date, or anyone's date, half suggestively shouting "Would I?"; but always, I will remember Mike smiling. For those of you who would like to write or call Jeanne, she may be reached by mail at 608 Truman Circle SW, Vienna, VA 22180, and by phone at 703-281-1399.
Douglas L. Davis 53, of Charlottesville, died Thursday, April 25, 2002, at his home.
He was born on April 2, 1949, the son of the late Douglas V. and Ruth Bunch Davis. He graduated from Rock Hill Academy in 1967, attended Randolph Macon College, and graduated from M.C.V Scholl of Pharmacy in 1972. He was employed by C.V.S. Pharmacy.
Survivors include his wife, Kathie Triantis Davis of Charlottesville; two daughters, Amanda Davis Anderson and her husband, Keith, of New York City, and Emily V. Davis of Charlottesville; a sister, Luvenia D. Rogers and her husband, Louis; and his mother-in-law, Virginia H. Triantis, all of Charlottesville.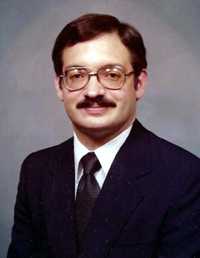 Robert Hunter McClung died on Wednesday, March 30, 2016, at his home in Roanoke, Va. Bob was born on October 27, 1949, in Baltimore, Md., to Mary Ellen Hood McClung and Hunter Buford McClung. The second of three children, he was predeceased by his parents and his sister, Sarah Ann McClung Hozier.He is survived by his brother, Richard Hood McClung; and numerous nieces; and nephews.Bob was a graduate of Roanoke College in 1972 and then joined the United States Army. He became fluent in German and French language and served as an M.P. in Germany. He pursued a life-long interest in History and Literature as an avid reader. He was a member of Raleigh Court Presbyterian Church.The family would like to thank the caregivers who have helped in recent years, especially Fiona O'Neill and the team from Good Samaritan Hospice along with Bob's neighbors, and the McDonalds.A Memorial Service will be held at 1 p.m. on Saturday, April 16, 2016, at Raleigh Court Presbyterian Church, 1837 Grandin Road, Roanoke, Va.In lieu of flowers, the family suggests donations be made to Good Samaritan Hospice in Roanoke